AIT Extension contributes to the development of the region through continuing professional education, short-course training and consultancy services. We do this by working to develop highly qualified and committed professionals who play a leading role in the sustainable development of the region and its integration into the global economy. AIT Extension works across a broad range of sectors and disciplines.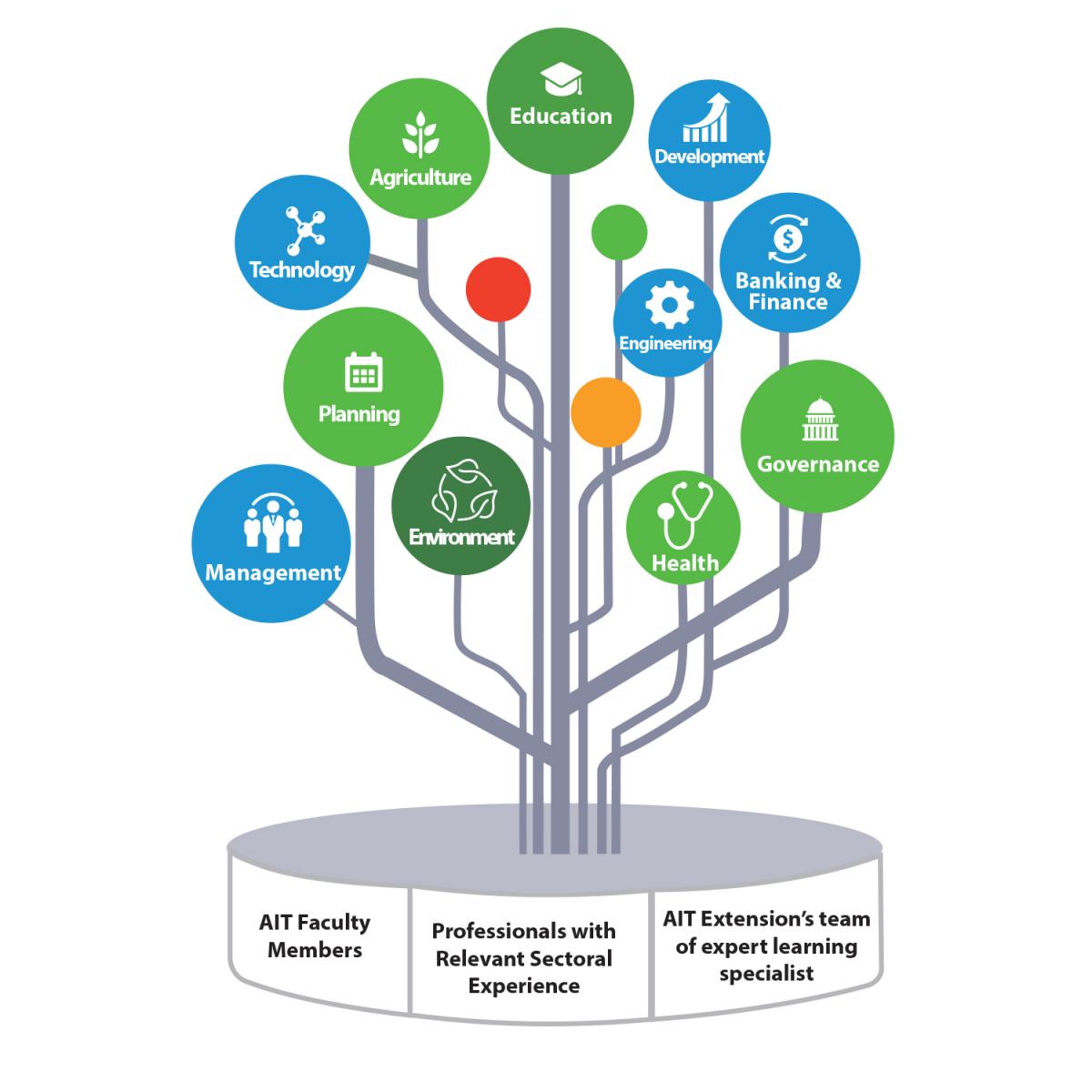 Vision
A globally-recognized, international provider of need-responsive and bespoke capacity-building services to governments, their development partners and sectoral development projects.
Mission
To design and deliver continuing, professional and executive education, and other capacity development services required by our clients by drawing on the expertise of AIT faculty and experts in AIT's network. 
What We Do
We organize on-campus and off-campus short-term education and training courses, study visits and consultancy services that respond to clients' continuing professional development needs. We also provide services for organization of conferences, seminars and workshops. Our training courses usually last from one to twelve weeks.
We design, develop and implement training courses customized to the specifications of the requesting client organization and also offer professional development programs designed for individual participants according to their specific needs.
Who We Work With
AIT Extension works with professionals in national governments, overseas development agencies, multilateral agencies, development institutions,  private sector, investment banks, consultants and NGOs. To respond to the diverse needs of the above groups, entry requirements are flexible. Ordinarily, participants will be mid-career and senior level professionals with at least two years of experience working for client organizations. Programs and services are delivered in English and in some cases through participants' national languages as well as through translation.
Why Choose AIT Extension
AIT Extension is a well-known and highly respected international institution in the region, with 25 years of experience in training and continuing education.
Multicultural staff, resource persons and participants.
Personalized care for participants.
Synergy among groups with distinct, complementary areas of competence.
A strong IT base to all network.
Well-known and well-established catalog of products and services.
Beautiful, peaceful environment, superb on-campus training facilities, and superb on-campus accommodation and recreation facilities.
A global and regional database of professional Resource Persons complementing AIT's 150+ faculty, and strong client base for continuing education.